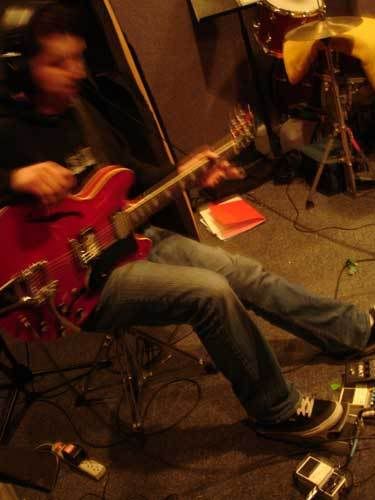 Wednesday, February 14 - Fresno - Royal Dutch Company Studios
- This was Ricky's day. After some frustrating time spent working out hard drive issues, we finally got down to tracking some tunes. Ricky's Strat's frets definitely need some work - one in particular is making a string buzz lke a sitar - so he played my Riviera with the Seymour Duncan humbuckers in it through the Fender Twin.
"Station Girl"
- This one's in 5/4 and has a pleasant lead part I wanted Ricky to play. Nailed it. It's got a bit of a low end twang to it. Beautiful.
"Kenny Filthy (The Distant Fairs)"
- Tracked some pretty sliding swells on this song. Then we went on to record some trippy harpsichord to inlay into the end of the song for a dreamy fair-like atmosphere. This will be an epic tune -
the
epic tune of the album.
After recording, I took the Riviera to Backline in order to fix a sunken pickup I'd damaged in a previous feedback session of guitar abuse. All fixed and leveled and ready for another session.
This recording is developing!
As always, more to come.